SRC Pregnancy and Recovery Garments: how do they work? what are they? and why is everyone talking about them?
Before we answer those questions we want to take a quick step back to help everyone understand why we're even talking about these pants or tights. If you're currently pregnancy or have recently carried a little one you might already know what a toll it takes on your body.
Back pain, pelvic pain, abdominal separation and varicosities are all common complaints suffered by women when pregnant and post partum. Research shows women who have higher levels of reported pain whilst pregnant are 44-47% more likely to experience more severe and earlier onset of pain post partum which can decrease women's functional capacity and ability to perform every day tasks and cause significant negative impact on their quality of life and mental state. Therefore it is important to get on top of these issues with effective prevention and intervention strategies as an essential part of anti and post natal care for women.
OK so here is where Pregnancy and Recovery Garments come into play…
Garments and belts to support your belly, lower back and pelvis arent necessarily a new thing. There are all sorts of bands and belts on the market many of which are designed to do one of 3 things
1. Provide coveerage for your bump and maintain modesty (think a boob tube for your belly when your pants no longer do up or your top doesnt quite cover your bump when you lift your arms up). These bands have no therapeautic benefit whatsoever but they do help you to wear normal clothing for that little bit longer; or
2. Belly belts/braces which are thick non-stretchy braces designed to lift your belly and take the weight off your back; or
3. Post-pregnancy tummy wraps, many of which have origins in shapewear and are designed to bring back to your fabulous pre-pregnant tummy sooner.
What are SRC Pregnancy & Recovery Garments
SRC pregnancy and recovery garments were designed from a medical and biomechanical basis. Because of this SRC Compression garments are specifically designed to provide continuous support, graduated compression* and relief of pain associated with pregnancy, post-operative wounds, post-partum and post-exercise, by facilitating muscle healing and recovery.
Because the needs of pregnant and recovering mums are different. they have divided their products into:
The pregnancy range: designed to provide support while moving with and catering for a growing bump; and
The recovery range to provide support to the pelvis, lower back, adomen and vasulature of the lower body while facilitating optimal muscle activation.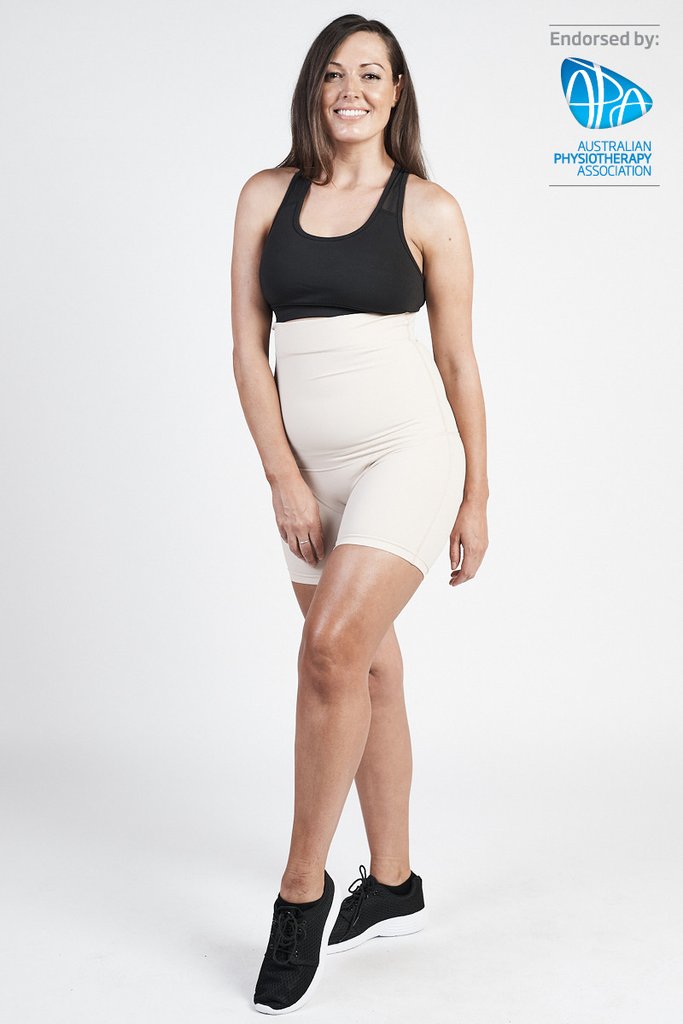 Why we love SRC Pregnancy & Recovery Garments
Ok so the secrets out, you've probably guessed by now that our team at Activate Physiotherapy love the SRC products and always recommend them to patients who are pregnant or recovering from pregnancy. And here's why:
1. They reduce pain:
Thats right! They help our team at Activate Physiotherapy to achieve our mission – help heal what hurts so you can get on with living your life.  Research has shown that women who wear the SRC garments had less post-partum pain than those who did not wear them.
Anything we can do to help mums feel great we're on board with, so when a product is able to scientifically prove that when worn it helps to make people feel better and we have great feedback from our patients everyone is happy.
2. They dont inhibit your natural muscle recovery
Ok, so apart from actually relieving pain, one of the most significant benefits SRC garments offer is that they dont inhibit your body's natural recovery. In fact they do the opposite and help the muscles regain their function. Lab studies show that SRC recovery garments decrease the distance of abdominal separation and enhance muscle tone and because the fabric is designed to move with your body these effects are maintained across a range of motions. What this means is that the SRC garments support muscle recovery and healing just by wearing them and doing everything you normally do.
One of the big dangers when it comes to wearing belly or lumbar support belts and braces is that too much compression and support can actually do harm. Wearing a pregnancy support belt or brace or maternity shapewear for long periods can impair blood circulation and negatively impact pelvic floor and bowel function. SImilarly garments that provide too much compression or are designed to squeeze you back into shape like Kardashian "waist trainers" which are promoted to new mums are a big concern for physiotherapists and health professionals. These devices can cause discomfort, pain, breathing restrictions and digestion issues. 
We like to say to our patients "use it or lose it!" When it comes to wearing a compression or support garment to assist muscle recovery after pregnancy or help to repair a abdominal seperation the key is to use a level of compression that facilitates muscle activation, assisting the body's natural healing processes rather than taking over and allowing the muscles to deactivate or weaken. That's just what SRC pregnancy and recovery garments do. As physios who want to see you get better quickly and in the long run this is a BIG plus in our books!
3. They're wearable
Wearability is a big problem with any support device. If it's not comfortable, you wont wear it and it can't do it's job. The amazing thing about SRC pregnancy and recovery garments is that they are VERY wearable. They are designed and made from a fabric that moves with you and continues to provide support rather than simply preventing you from moving.
SRC pregnancy and recovery garments can be worn all-day, every-day and thats why they're so effective. You dont need to continually fiddle with velcro straps and make adjustments, you just put them on an go. You can even wear them overnight to bed – anyone who's been pregnant and trying to roll over in bed can vouch for the difficulty of this task!
4. They give true cross compression
They key ingredient to the success of SRC pregnancy and recovery garments is the patented fabric which has been designed to give "True Cross Compression" 
SRC compression wear is a medical grade product providing 4-15mmHg compression. The aim of this fabric is to provide a therapeutic level of compression without creating a feeling of restriction. This led SRC to develop a layered fabric system so that each level of fabric is cut on a different plane and can compress from every angle of your body. 
5. They're designed to be worn and washed
Just like wearability it's no good having an amazing support product that you cant wash. SRC's fabric has been tested over 100 wash cycles against a leading compression brand. The testing showed the other brand had not only shrunk significantly but was also less resistant to stretch and only the SRC fabric retained the original compression levels.
Now I dont know if you've tried to wear a pregnancy, lumbar or pelvic brace under your clothes lately, but lets just say theyre are defintely not a fashion statement you'll want to make. They're bulky, dig in and squeeze out in all the wrong places. SRC preganancy and recovery garments are designed to be worn as under or outer garments. SRC Pregnancy range are designed to be worn from 12 weeks until term and the recovery range are proven to benefit from birth to 8-10weeks (but you can totally wear them beyond- many patients love them so much they do).
At the end of the day we believe a wholistic approach to managing pregnancy and post-partum pain is critical. Visiting a physiotherapist is the best way to get a tailored treatment plan which may include therapy, exercises like clinical Pilates and fitting for a support garment to assist you whereever you're at in your pregnancy journey.
If you'd like to know more or be measured and fitted for an SRC pregnancy or recovery garment, speak to one of our physiotherapists today! It's completely obligation free.